The Latex Ball's HIV Advocacy Highlights Young Queer People of Color
The ballroom scene targets young queer people of color and reaches them in a way that no other intervention does.
Photo by Ryker Allen
On Saturday, July 29, thousands of members of the LGBTQ community and their supporters gathered for the Latex Ball, a disco-infused night of glitter and glamour mixed with HIV activism. The Gay Men's Health Crisis (GMHC), a New York-based HIV/AIDS service organization, in collaboration with the city's house and ballroom scene, brought the house down while raising awareness for an important cause-- while also letting attendees strut their stuff on the catwalk for both the respect of their peers and to compete for prizes.
According to GMHC CEO Kelsey Louie, for nearly 30 years the Latex Ball has been an opportunity to combine the entertainment of a ball with HIV/AIDS prevention and education efforts.
"Not only is it a safe space for people to talk about things like safer sex practices and self-esteem but it also an opportunity to tap into the creativity and resiliency of young gay and bisexual men and trans people," Louie told VICE Impact.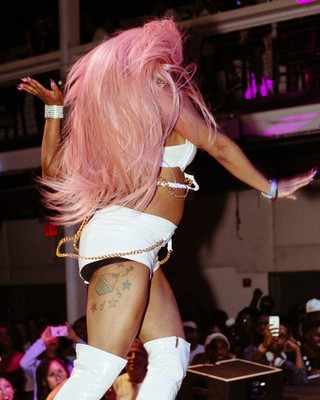 According to the GMHC, they are the leading provider of HIV/AIDS care across the nation and serve upwards of 12,000 people in New York City who are either living with or affected by HIV and AIDS. At the ball there, about 20 community-based organizations such as the Ali Forney Center and Housing Works were present to offer contraceptives, health services and HIV-prevention materials. GMHC also provided free HIV-testing and counseling to people interested in taking part.
---
Watch some more video from VICE:
---
Louie noted that although the number of new infections nationally has plateaued at about 40,000 people annually, certain demographics across the country have seen a spike in infections-- particularly black and Latino gay and bisexual men in the south.
According to the CDC, in 2015 Black men who have sex with men (MSM) led in the number of new HIV diagnoses at 10,315. The data from the CDC shows that the number of infections of young black MSM (ages 18-24) is still high, but the infection rate has declined since 2010. The same report shows a 24 percent increase in Latino men as well. This means prevention methods are working but more work must be done to reach the most vulnerable groups if the epidemic is to be curbed.
"It means that our intervention needs to shift to target these populations in addition to that we also know that there are certain geographical areas right now in the south where new HIV infections are on the rise and so across the country the new infections have remained steady but impacting different communities differently," Louie said.
"An opportunity to tap into the creativity and resiliency of young gay and bisexual men and trans people."
The ballroom scene has a long legacy in New York's nightlife culture. It was originated by queer people of color -- predominantly black and Latino gay and bisexual men and trans-women -- to showcase their fashion, creativity and art. The underground community gained national attention after the release of the 1990 documentary Paris is Burning, which featured voguing and lingo like "reading" and throwing shade for the first time.
The community supports many LGBTQ youths who have been rejected by their families. Groups, known as houses, take the names of fashion designers or icons and act as surrogate families for displaced individuals and offer them a space to be themselves.
Read more: A Conversion Therapy Survivor Is Fighting To End The Practice Nationwide
In 1989, during the peak of the HIV/AIDS epidemic, the GMHC and leaders from the house and ballroom scene developed several health-outreach initiatives called "The Latex Project." Luna Ortiz has been a part of the house and ballroom community for more than 25 years. He's the father of the House of Khan and now works for GMHC as a Community Health Specialist. He also helped organize the Latex Ball this year.
"With AIDS coming in the '80s, balls became even more important because we were able to comfort each other and celebrate each other in the midst of all of the madness of our friends dying," Ortiz told VICE Impact.
In describing the relationship between the house and ballroom culture and HIV/AIDS advocacy, Ortiz noted that activism and advocacy comes in different forms. "Ballroom is a form of activism in its own way," he said. "We are crossing gender lines and we're in your face."
"Balls became even more important because we were able to comfort each other and celebrate each other in the midst of all of the madness of our friends dying."
For those interested in participating but don't have access locally, GMHC is willing to provide information for to start a community of their own.
"We do a lot of technical assistance for different parts of our work," GMHC's Director of Community Relations Krishna Stone told VICE Impact. "[We] can explain how we do our balls to someone in the middle of Mississippi."
GMHC has several fundraising events for HIV/AIDS advocacy throughout the year, and push to end the epidemic is still going strong. If you're interested in supporting the of GMHC work here's how you can get involved .